Credits
Director / Writer
TINA LEISCH
Writer / Producer
URSULA WOLSCHLAGER
Director of Photography
GERALD KERKLETZ
Editing
KARINA RESSLER
Music
EVA JANTSCHITSCH
Assistant director / choreographer
SANDRA SELIMOVIC
Sound
KLAUS KELLERMANN
Make up: MONIKA LABAJ, ELISABETH VOLLENHOFER, WILTRUD DERSCHMIDT
Additional Camerawork: LEENA KOPPE, ANDREAS WINTER, JUDITH BENEDIKT
Additional editing: JULIA PONTILLER
Costumes: SANDRA SEKANINA
Editing consulant: KURT HENNRICH, ANDREA WAGNER, JOANA SCRINZI
Additional sound recordists: ATANAS TSCHOLAKOV, WOLFGANG MOHAUPT, GAILUTE MIKSYTE, DANIEL FRITZ, CLAUS BENISCHKE
Camera assistants: ANDREAS WINTER, LEENA KOPPE
Light: THOMAS SCHINDLER, THOMAS MÃœNSTER, LEENA KOPPE, STEPHAN LUDESCHER
Theater light: MÄCKS
Sound Design: STEFAN ROSENSPRUNG
Colour correction: KURT HENNRICH
Mixing: CHRISTOPH AMANN
Assistant Editors: JUDITH BENEDIKT, DANIEL HÖSL
Title Graphics: NIC PROKESCH
Translations: CICEK DILLICE-CAN, GERDA LEISCH, FABIAN CLARK, LISA ROSENBLATT, NORMAN SHETNER
Stage construction: FRIEDRICH ANGERLER / HAUSWERKSTÄTTE 1
Additional Make up: ALEXANDRA DIMI, USCHI FILIPP, BARBARA FRÖHLICH
Photographer: FABIO PEISSL
Press relations Austria: apomat* büro für kommunikation, ANDREA POLLACH, MAHNAZ TISCHEH, www.apomat.at
Graphic Design Poster and Artwork: EVA DRANAZ / 3007 www.3007wien.at
Website: PETER GRABHER
Insurance: AON JAUCH & HÃœBENER, REGINE REIGER
Thanks to KURT HENNRICH for Allroundsupport, to INES DOUJAK for Collaboration in the make up concept, to WOLFGANG WIDERHOFER, MICHAEL KITZBERGER and STEFAN HAFNER.
Thanks for words and deeds to BARBARA FRÄNZEN, SYLIVA FASSL-VOGLER, ROLAND TEICHMANN, ANGELIKA WILD, PETER ZAWREL, IBRAHIM AKBOLAT, CLAUDIA BUSSER, KARIN DIETZ, ALEXANDER DUMREICHER-IVANCEANU, MOHAMED DERRADJI, VALENTIN EISENDLE, FOTOSTUDIO EISENHUT & MAYER, ULLI FUCHS, PETER GRABHER, STEPHAN VON GREGORY, MAX GRUBER, GABY GRÜNWALD, ZDRAVKO & DRAGO HADERLAP, ASTRID HEUBRANDTNER, JOHANNES HOLZHAUSEN, NICOLE HUY-PRECH, ERICH LACKNER, LOTUS-FILM, ALENKA MALY, HEIDEMARIE MÜLLER-RIEDLHUBER, SEDAT PERO, GERHARD RAUSCHER, JOHANNES ROSENBERGER, ANJA SALOMONOWITZ, KARIN SCHÖN, CHRISTIAN THALER, MARTINA THEININGER, CHRISTIN VEITH, RALPH WIESER, HELMUT WIMMER, ELFRIEDE WOLSCHLAGER, CONSTANTIN WULFF, PETER ZACH, ZELIMIR ZILNIK
Thanks for cheep camera equipment to DIGITALKAMERAVERLEIH, AIDIN AFSCHAR, STEFAN LUKACS, NONPLUS FILMPRODUKTION, ARNE NOSTITZRIENECK, NORIA FILMS, MARTIN LOHR - MGL PRODUCTIONS, GERO DENNIG, THOMAS BENESCH. Thanks for lighting equipment to CHRISTIAN STOCKLAS, ERNST DANGL GMBH www.dangl.tv, and M.Ä.C.K.S - VERLEIH VON LICHT UND SCHATTEN www.maecks.at
Songs: "MAD GRRRLS DEAL" Lyrics: SOPHIA & EVA, Music: EVA JANTSCHITSCH, Piano: ELISE MORY / "PRISON PROMISES" Lyrics: BIG JOE, SOPHIA & EVA, Music: EVA JANTSCHITSCH
Film and Theater Play were produced with the support of: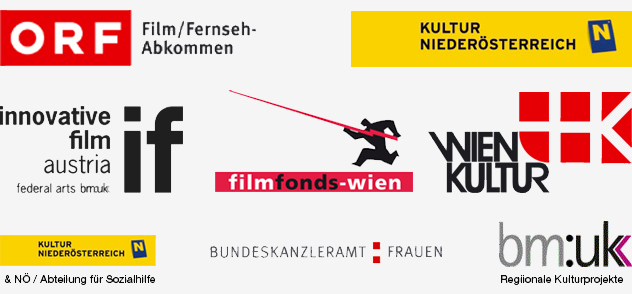 A Co-production of KINOKI and WITCRAFT.
© 2008